Convocation
92nd Annual Convocation



Monday 14 November 2016
Convocation is a public celebration of the life and work of the College, convened for the purpose of granting diplomas and degrees to those students who have fulfilled the requirements of their respective programs. Honorary Degrees are also awarded to persons who have given exemplary service to their faith communities or the broader society.
CONVOCATION CEREMONY
7:30pm
Convocation Hall
University of Alberta
Convocation Address: Lewis Cardinal
Reception to Follow
2016 Honorary Degree Recipients
Doctor of Sacred Letters (Honoris Causa)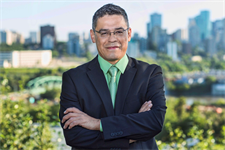 Lewis Cardinal is a member of the Sucker Creek Cree Nation on the west shore of the Lesser Slave Lake in Northern Alberta. His referees come from the Past Executive of the Edmonton Committee for the Parliament of the World's Religions on which he served. He has served the local community and on an international level within that spiritual organization and is a Trustee, Executive Board Member, and Chair of the Indigenous People's Task Force for the Parliament. He has made many presentations at the Edmonton Interfaith Centre and one on "Edmonton's Experience of Reconciliation with Indigenous Peoples" at the Parliament held in Melbourne, Australia, in  2009. His long history of public service includes founding board member of Racism Free Edmonton, founding Board Member of Alberta Aboriginal Arts, C0-Chair of the Aboriginal Commission for Human Rights and Justice, to mention only a few.
Lewis is a practitioner of traditional Indigenous spiritual practices and through that practice he seeks to connect others with their own sense of spirit, especially as it pertains to place. He has often reminded us that the word "Monto" has always been within the name Edmonton. Monto is the Cree word for Creator's essence, the Source, or the Great Mystery. He proclaims that Edmonton is full of spirit throughout all our communities—the city has "spirit" in both name and place—a spirit which we feel inside and to which we are drawn. Lewis has made this concrete in promoting the creation of Kihciy Askiy, Cree for "Sacred Earth", Canada's first urban Indigenous spiritual and ceremonial site, currently under development in Whitemud Park in Edmonton.
Doctor of Divinity (Honoris Causa)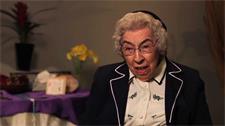 Sister Annata Brockman comes from a German farming family in Saskatchewan who taught her that every person is a part of God's family and should be treated with dignity and respect as one would treat Jesus himself. Sister Annata is a member of the Sisters of Charity of St Vincent de Paul and has been involved in Christian education all her life. Her commitment to, and tireless promotion of, education that integrates faith and reason is based on her understanding that it is transformative for both individuals and society as a whole. She was recognized for this by the Edmonton Catholic School District by having a school named after her in 2010.
In retirement she served for 23 years as pastoral associate at St Joseph's Basilica, Edmontnon, undertaking a rich variety of ministries that included outreach to the sick and the terminally ill, supporting and counselling persons suffering from mental and emotional distress, assisting the homeless and those in financial difficulty.
Sister Annata is unable to attend Convocation and so the degree will be conferred in absentia.
PUBLIC RESEARCH PRESENTATIONS
Members of the Public are Welcome
2:00pm-4:30pm
Lister Conference Centre, 2nd Floor
University of Alberta
87th Avenue and 116th Street
Graduands Presenting: click HERE for schedule and abstracts
Rose-Marie Nigli (DMin) – Leading into Being: Enhancing Compassionate Imagination through Opera
Anne Marie Walsh (DMin) – To Be Redemptorist: The Emerging Vocation of the Lay Missionary of the Most Holy Redeemer Within the Redemptorist Family
Charles Chenard (MPS-AT) – The Art of Compassion: Exploring and Integrating Counter-Emotions
Nicholas Jacobs (MPS-AT) – Sex, Shame, and Spirituality: A Study of Lived Experience
Deborah Kopeshny (MPS-AT) – The Phenomenological Experience of Zentangle® and the Implications for Art Therapy
Marie Muggeridge (MPS-AT) – Empowerment Through Altered Books
Katherine (Kate) Porter (MPS) – Conceptualizing the Process of Identity Development in People with Insecure Attachment
Nola Sharp (MPS) – Embodied Sacred Knowing with Relational Consciousness
Neil Soggie (MPS) – I Am Happy: The Hermeneutics of Happiness Through an Existential Heuristic
Other students graduating but not presenting:
Dawn Rolke (MTh)
Sherry Bilida (MPS) – The Elephant in the Office: A Phenomenological Study of Spiritually-informed Student Therapists' Feelings of Incompetence in Early Therapeutic Encounters